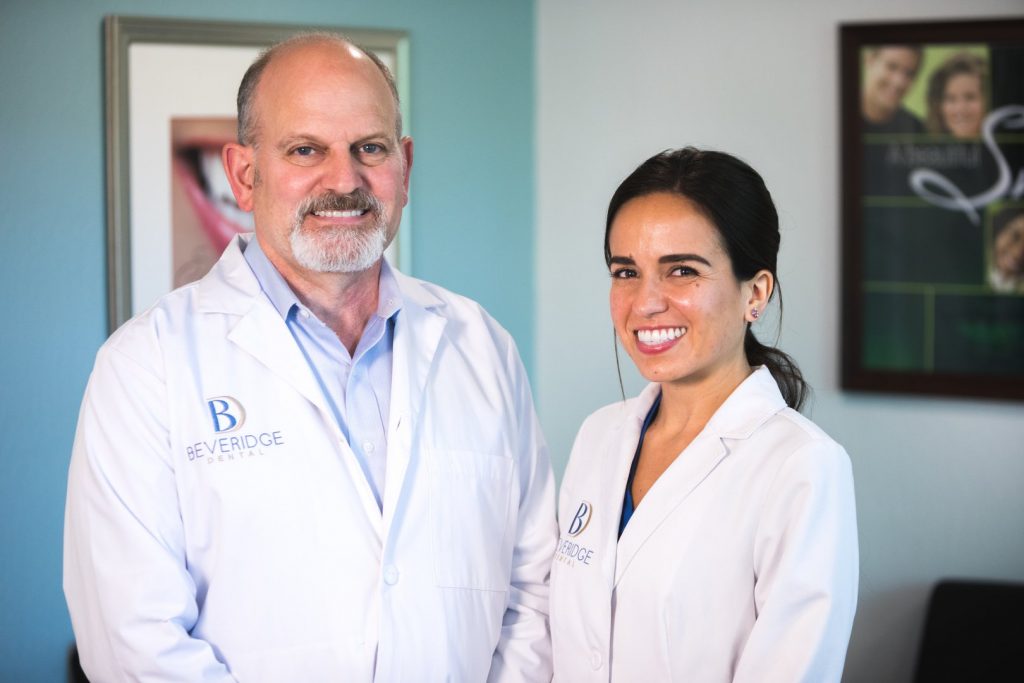 ---
Ruby – Scheduling Coordinator
Ruby is our scheduling coordinator here at Beveridge Dental. She graduated from a medical office administrative program in 2017, and we are happy to have her as part of our team!
Ruby says she loves working with down-to-earth doctors who provide excellent care to each patient. The feeling is mutual as we love the way she keeps our office running smoothly. Our patients appreciate the way she sets and confirms appointments to help them fit great dental care into their busy lives.
Ruby and her fiance have a beautiful daughter named Mia. When she is not working, Ruby loves exploring new things and spending time with her family. She really enjoys both food and music.
---
Maria – Treatment Coordinator
Maria is our treatment coordinator. As such, she maintains the schedule as well as account balances. She also completes insurance claims— for which we are all grateful. In addition to these duties, she also explains and reviews treatment plans with patients to help them feel comfortable with their procedures.
Maria came to us with over ten years of experience as a registered dental assistant! This background knowledge is invaluable as she communicates treatment plans to patients as well as insurance companies. She says she enjoys the kind nature of the staff and patients she encounters on a daily basis, and we appreciate her work!
Maria has a very full household that includes a husband, twin boys, a daughter, three dogs, and a cat. She loves spending time with her family, going to the beach, enjoying a movie, and savoring a BBQ at home!
---
Arely – Registered Dental Assistant
Arely is one of our excellent Dental Assistants! We appreciate the unique skill sets she brings to our team here at Beveridge Dental. One of these unique skill sets is her ability to serve as an American Sign Language translator! Arely has been certified in this area since 2014.
In addition to her skills as a dental assistant, Arely has a welcoming demeanor as she works to exceed patient expectations at every dental appointment. She is continuously improving as she strives to learn the latest techniques in her field.
Arely loves to travel and explore new places as well as foods, though chocolate-covered almonds hold a special place in her heart. She also loves to hike, play sports, and watch movies.
---
Lian – Registered Dental Hygienist
Lian has been one of our excellent registered dental hygienists since April 2007. She graduated from San Jose State University with a Bachelor's of Science degree in 1997. In 2006 she completed the Dental Hygiene program at Foothill College. Lian received the Golden Scaler Award for her clinical proficiency!
She enjoys her work, especially providing service to the fantastic patients here at Beveridge Dental. Lian provides thorough cleanings and always finds ways to help patients with their dental concerns. We love the way Lian's teamwork mindset helps us on a daily basis!
Lian has been happily married since 2012, and they have two precious boys together. Her vibrant personality really shines through. Lian loves exploring new places and going on adventures, especially with her family and friends. She also enjoys running and staying healthy.
---
Michelle – Registered Dental Hygienist
Michelle is one of our registered dental hygienists, a pillar of our practice since 1997! She delivers the highest standard of care for the whole health of each patient who walks in the door. We love Michelle's team-player mentality as well as the way she ensures that patients are comfortable during treatment!
Michelle loves the people she works with as well as the patients— something that is evident in every day that she works here. This passion for our patients and for being part of our team lights up our entire practice!
As busy as she is in the office, Michelle is busy outside of it as well. Michelle and her husband, Ed, have 4 daughters and 5 grandchildren. She enjoys travel, hiking, sewing, and catching live music now and then. Her guilty pleasures are watching college football and bingeing on her favorite shows with some popcorn!
---
Tulsi – Registered Dental Hygienist
I grew up in India, and moved to the United States when I was 16. I graduated from USC in 2007 with a Bachelor's in Dental Hygiene. Soon after that, I further went to get my license as Registered Dental Hygienist in Alternative Practice from University of Pacific, so I can provide on-site dental hygiene care to those with limited access to care in the traditional dental office setting.
I enjoy working, and meeting new people. My passion is to help patients achieve optimal oral health through education and guidance at every dental hygiene visit. I am so very honored to be a part of an amazing team who shares these same goals in helping our patients!
I spend all my free time with my wonderful husband, and our 3 energetic loving boys. I enjoy running, biking, hanging out with her boys, traveling, being in nature, and spending time with friends.