Dentures – San Jose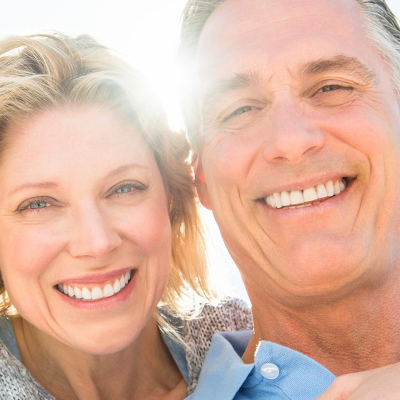 Missing multiple teeth can affect more than just your smile. It can also detrimentally affect your overall oral health. When your ability to communicate or even consume food is compromised due to missing teeth, that's when Beveridge Dental can step in and make some positive changes if you are in the South San Jose – Los Gatos area.
Types of Dentures
If a loved one or you personally deal with tooth loss, whether from age, disease, decay, or trauma, we have a solution for you. At Beveridge Dental we offer a variety of denture solutions, including:
Partial Dentures
If you are missing several teeth but still have remaining healthy teeth, we can also offer partial dentures. This type of denture is used when one or more natural teeth remain in the upper or lower jaw. The partial dentures needed to fill in the gaps are connected to the surrounding natural teeth, which anchor them in place.
Custom Dentures
Custom dentures are a full set of removable teeth that match your unique smile and needs. We make dentures that are beautiful and high-quality, so you can love your smile again! If patients have lost all their teeth, custom dentures from Beveridge Dental are a viable solution for many patients.
Implant Supported Dentures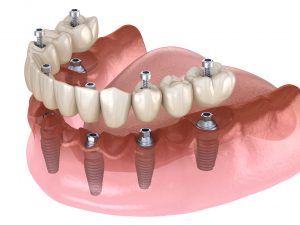 Implant Supported Dentures: Traditional dentures rest on the gums; implant supported dentures are attached to the jaw by way of dental implants. This works best for patients who don't have any natural teeth left but who have enough existing bone in the jaw to support denture implants. We can even offer these in a removable style for your convenience!
The All-on-4® Treatment Concept
This solution works for patients with no teeth or patients with severely damaged or decaying teeth. Permanent dentures are secured by four dental implants placed throughout the mouth. This treatment concept may be able to give you teeth in a day!
Benefits of Implant Supported Dentures
Denture implants are a great choice for your smile if you're looking for a permanent solution to your tooth loss. They are:
Long-Lasting
Permanent Implant Supported Dentures are a long-lasting, often helping patients have fully functional teeth late into their life.
More Convenient
If you choose permanent dentures, you won't have to take your teeth out at the end of the day and put them back in every morning.
Improved Functionality
With implant-supported dentures you can expect to have higher-functioning dentures that more closely mimic the strength of your natural teeth.
Cost-effective
By combining the stability of dental implants with the full arch denture you can have the functionality of implants without the high cost.
Dentures with Beveridge Dental in San Jose CA
Our practice makes it easy for our patients to find the right solution, fitted perfectly to their individual needs. We aren't restricted to only one solution; we offer a variety of options, from traditional dentures to the All-on-4® treatment concept, because we know that our patients have unique needs. We want to meet those needs.
Contact our office today to set up an appointment to go over your denture options if you are in the South San Jose area, including Saratoga and Los Gatos.
Related Content