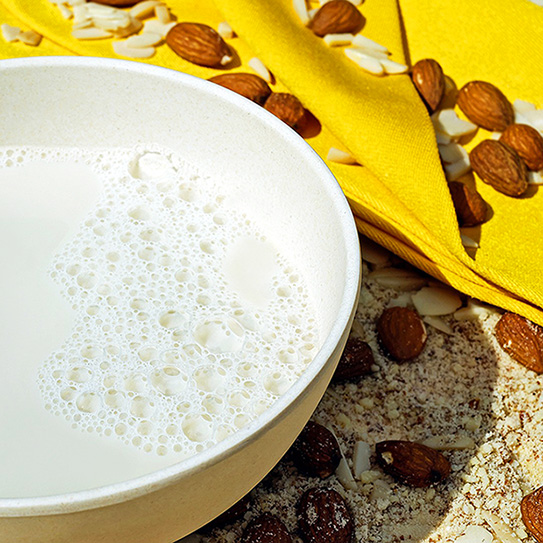 CALCIUM AND MILK go together like fluoride and toothpaste. Without the former, it can be hard to find the latter. And, like fluoride, calcium is essential to our oral health.
How Calcium Benefits Your Oral Health
We all know that calcium is the main component of our teeth and jaw bones, but our mouths are also made up of gum tissue, muscles, nerves, and blood vessels. Calcium is important for these things as well because it helps them function as they should.
How Much Calcium Do We Need?
The range of calcium intake recommended for the average person on a daily basis is between 1000-1300mg from ages four to 70+ yrs. Children younger than four need about 700mg or less. The numbers vary based on gender and age.
Getting less than 500mg of calcium a day puts you at greater risk of developing gum disease, and the scary thing is that most people don't meet their daily recommendation. Take a look at the foods you're eating and make sure you're including at least 800mg of daily calcium to keep your teeth and oral health in great shape!
Non-dairy Calcium Sources
Most people can get their daily calcium from milk and other dairy products, but some don't have that option. Luckily, there are many alternative sources of this crucial mineral, and we've made a list of them to help out our dairy-averse patients.
Canned fish with the bones in. The bones of small, canned fish are an excellent source of calcium, and they're soft enough to eat! It's up to you whether you eat them straight from the can or mix them into a larger meal.
Dark leafy greens. Starting at 180mg and reaching about 350mg, kale, spinach and collard greens are the three leafy greens with the highest calcium content.
Beans and black-eyed peas. Legumes such as beans and black-eyed peas contain an impressive amount of calcium, with 350mg to 515mg in just one cup!
Fortified drinks. Fortified orange juice contains around 1500mg and soy milk has 340mg per cup.
Tofu. Most tofu has added calcium, giving it about 860mg per half cup, but you'll still get between 100-200mg per serving with no calcium added!
Broccoli and broccoli rabe. Broccoli rabe (rob) has about 80mg of calcium per 2/3-cup serving and broccoli has about 100mg per 2cup serving.
Edamame. With 98mg in just one cup of cooked edamame, it's a good source of calcium as well as protein!
Almonds. Out of all the nuts, almonds contain the highest level of calcium, with 8% of the recommended daily intake in a single ounce.
Dried Figs. Figs have a sweet, dessert-like flavor, so eating the half cup it takes to get the calcium from them will feel like indulging in a treat!
We Can Help
If you think you may be prone to gum disease or have further questions about how you can improve your daily calcium intake, we'd love to talk to you about it, so schedule a visit with us today!
We love helping our patients keep their teeth healthy and strong!
Top image used under CC0 Public Domain license. Image cropped and modified from original.
The content on this blog is not intended to be a substitute for professional medical advice, diagnosis, or treatment. Always seek the advice of qualified health providers with questions you may have regarding medical conditions.