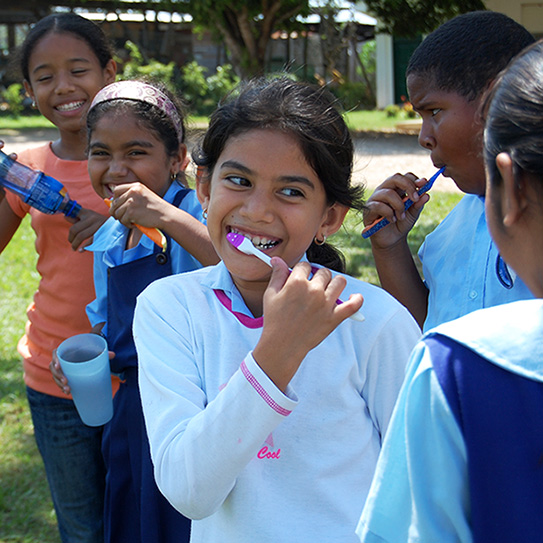 BRUSHING OUR TEETH is something we can get so used to doing that we don't really think about it, but are we doing it the right way? It can be easy to get into some bad tooth-brushing habits, and the result can be that your teeth aren't getting cleaned properly and you could be doing damage to your gums. So let's take a moment to go over good brushing technique.
What To Avoid When Brushing Your Teeth
A few of the things we should avoid when we brush our teeth are brushing too hard, only brushing up and down or side-to-side, and always starting in the same place. Brushing too hard can damage our enamel and our gum tissue, which is why we should also avoid hard-bristled brushes.
When we only brush up and down or side-to-side, we tend to miss the spaces between teeth, which allows plaque to build up and leads to tooth decay. Because brushing our teeth is such a routine thing to do, it can be very easy to do it the same way every time, but when we always start brushing in the same place, we tend to pay unequal attention to the first teeth we brush compared to the last. Try mixing things up so that your whole mouth can get the same level of attention!
Brushing Your Teeth The Right Way
The first rule of good brushing is one you've likely heard all your life: brush twice a day every day for at least two minutes. Do whatever you need to do to make brushing your teeth an unskippable part of your morning and evening routines. You could even play music so you know how long to keep brushing!
However, brushing isn't just about quantity; it's also about quality. For the best cleaning action, hold your toothbrush at a 45 degree angle and focus on the gum line. Use gentle circular motions to brush the outsides, insides, and chewing surfaces of every tooth. And don't forget to brush or scrape your tongue before you're done! Like daily flossing, tongue-scraping is another crucial step for getting rid of harmful bacteria (and it will help keep your breath fresh!).
Timing is also important. Our teeth often feel unpleasant after a meal, but as much as you want to clean them, make sure you wait at least half an hour after eating before you brush. The acids in our food and produced by oral bacteria soften our enamel right after we eat, and it takes about half an hour for our saliva to restore a neutral pH. If we brush too soon, we can actually brush away some of our enamel!
Your Dentist Is Your Greatest Resource
If you'd like more tips on tooth brushing techniques, just ask us! We can make sure your oral health routine is on track for keeping your teeth healthy for life. And don't forget that an essential component of having healthy teeth is scheduling regular dental appointments!
Now set that timer and get brushing!
The content on this blog is not intended to be a substitute for professional medical advice, diagnosis, or treatment. Always seek the advice of qualified health providers with questions you may have regarding medical conditions.