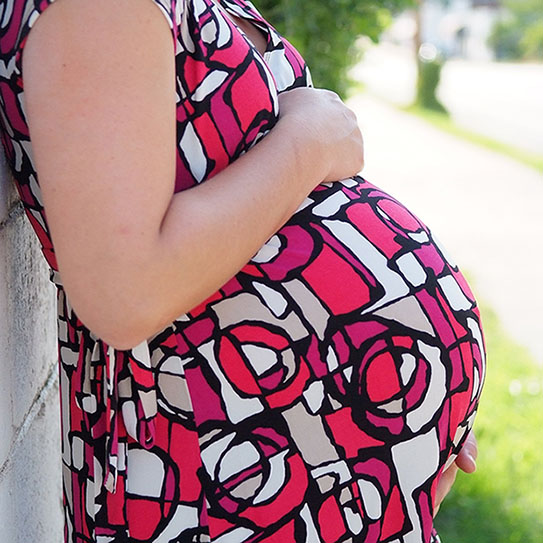 ASIDE FROM THE OBVIOUS, there are all kinds of changes the body goes through during pregnancy. Some of them can even impact teeth and gums, from morning sickness to changing hormone levels that increase the risk of several oral health problems.
Hormones Can Lead to Pregnancy Gingivitis
Pregnancy is a very busy and exciting time, but make sure not to slack off on brushing and flossing, because those changing hormones can leave the gums vulnerable to the tenderness and swelling of gingivitis. 40% of pregnant women have gum disease, and studies link pregnancy gingivitis with lower birth weights and premature delivery. Fight back against pregnancy gingivitis by brushing with a soft-bristled toothbrush and flossing daily!

Enamel Erosion from Morning Sickness
Not every mom-to-be gets morning sickness, but the ones who do might experience oral health problems as a result. Frequent exposure to stomach acid erodes the protective enamel on teeth, leaving them vulnerable to decay. You can minimize the effects by swishing with baking soda and water to neutralize the acid after an episode of morning sickness. Once the acid is neutralized, it's safe to brush!
Weird But Not Dangerous: Pyogenic Granuloma
Possibly the strangest way pregnancy can impact oral health is by causing raspberry-like growths between the teeth. These are pyogenic granulomas, or "pregnancy tumors." Don't worry, though, because they aren't malignant. If they appear, it's usually in the second trimester, and while they usually vanish after the baby is born, the dentist can remove them if they get too uncomfortable.
The Impact of Diet on Mom's and Baby's Dental Health
What we eat always plays a role in the health of our teeth and gums, and that is especially true during pregnancy. We recommend cutting back on sugary treats and focusing on getting plenty of essential nutrients. This will help keep your teeth in good shape, and it will also help the little one. Developing babies need vitamins A, C, and D, as well as protein, calcium, phosphorous to begin growing strong teeth.
The Dentist Is Your Friend
In addition to getting the right nutrition and maintaining good daily oral hygiene habits, it's also important to keep the dentist in the loop. Fighting pregnancy gingivitis requires routine cleanings and checkups. Whether it's been a while since your last appointment or you think you might be expecting an addition to your family soon, we encourage you to schedule a dental appointment soon!
Our patients are the best!
Top image used under CC0 Public Domain license. Image cropped and modified from original.
The content on this blog is not intended to be a substitute for professional medical advice, diagnosis, or treatment. Always seek the advice of qualified health providers with questions you may have regarding medical conditions.