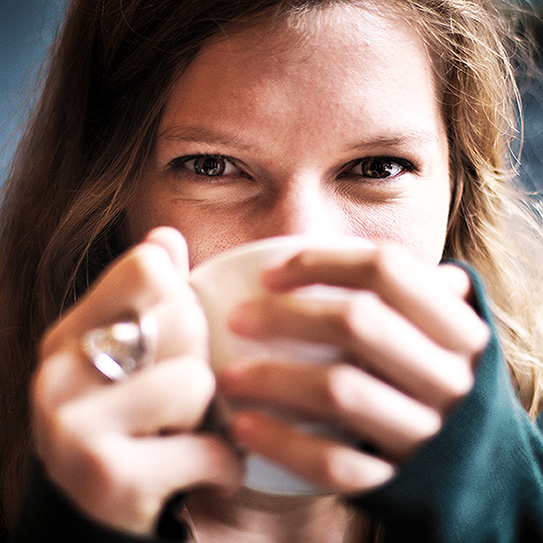 WE OFTEN TAKE STEPS to achieve that sparkling white smile when we brush in the morning and before we go to bed. The truth is, what we consume throughout the day is often the largest contributor to whether or not our smile will light up a room.
Although there are several causes for tooth discoloration, we can separate them into three basic categories: intrinsic, extrinsic, and age-related discoloration. Here's how each affects your teeth, and what you can do to ensure a life full of bright, healthy smiles.
Food And Drink Are Large Contributors To Surface Stains
Extrinsic tooth discoloration occurs when the enamel—the outer layer of the tooth—becomes stained. These stains are caused by pigments, acidic content, and other chemical factors (natural or artificial) present in things we enjoy eating and drinking.
A few common culprits for tooth discoloration include:
Wine
Coffee
Tea
Cola
Sports drinks
Hard Candy
Berries
Tomato Sauce
Most of these items won't have an immediate affect on the color of your teeth, but over time, they can begin to wear away and cling to enamel causing unsightly stains. Try to consume these in moderation and always remember to drink plenty of water and brush your teeth after meals.
Here's a couple of quick tips to help avoid those wine stains!
Trauma Can Discolor Teeth From The Inside Out
Intrinsic tooth discoloration occurs when the inner structure of the tooth—the dentin—begins to darken or develop a yellow tint. This type of discoloration can develop because of a trauma sustained to the tooth. Sometimes when a tooth sustains trauma during childhood, it can damage the developing permanent tooth beneath it, affecting the tooths color. If a trauma is sustained during adulthood, internal bleeding can potentially discolor the damaged tooth.
Other causes include uses of medication at certain stages of life or being born with a rare condition called dentinogenesis imperfecta which can cause gray, amber, or purple discolorations. If you have questions about intrinsic discoloration, come in and see us and we can help answer your questions.
Your Smile Can Change Color With Age
Age-related tooth discoloration is a combination of both intrinsic and extrinsic factors. The dentin inside our teeth naturally yellows as we age. Enamel on the outside of teeth also thins as we get older, allowing the yellow pigment of the dentin to show through. A lifetime of consuming certain foods or smoking cigarettes will also contribute to deep-set stains on the enamel's surface.
We Can Help Brighten Your Smile
We know just how important it is to provide our patients with bright, healthy smiles. Each situation is unique and we provide our patients with effective solutions for their unique oral health needs. If you have any questions about your smile's appearance, let us know in the comments below or call and make an appointment today!
Thank you for continuing to be a part of our practice family!
The content on this blog is not intended to be a substitute for professional medical advice, diagnosis, or treatment. Always seek the advice of qualified health providers with questions you may have regarding medical conditions.