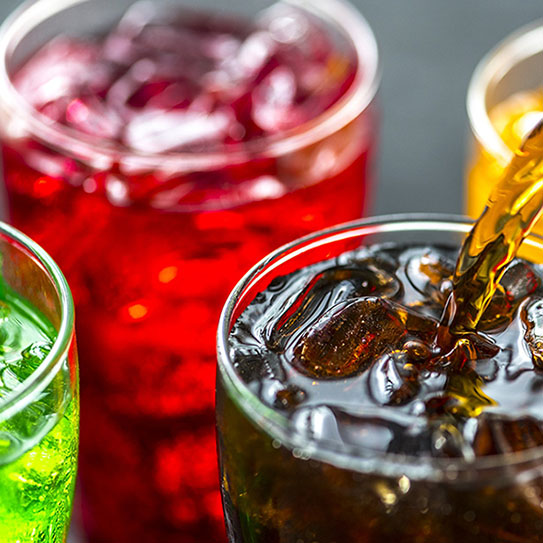 ONE OF LIFE'S CRUELEST ironies is that so many of the foods and drinks we enjoy the most aren't good for us at all. Naturally, as dental professionals, we're particularly concerned about the ones that are bad for our teeth. That's why we're giving our patients a heads up about the three drinks that have the worst impact on oral health.
1. Soda
Two of the most harmful things for our teeth are sugar and acid, and carbonated beverages are full of both. Sugar is harmful because the bad bacteria in our mouths eat it and excrete acid on our teeth, and when we drink something acidic, we're essentially cutting out the middle man and applying the acid to our teeth ourselves. Tooth enamel begins to dissolve at a pH of 5.5, and soft drinks range in acidity from RC Cola at a pH of 2.32 to Canada Dry Club Soda at 5.24. Even diet soda isn't much less acidic than its sugar-loaded counterpart.
2. Sports Drinks
We all enjoy a refreshing drink to go along with a hard workout, but those sports drinks we use to replenish our electrolytes have a down side. Like soda, they are often full of sugar and highly acidic. One study showed that lemon-lime Gatorade dissolved the most tooth enamel compared to any other drink, including Coke.
3. Fruit Juice
By this point, you probably already know what we're going to say. Fruit is a very healthy snack and can even be good for your teeth, but when we drink the juice on its own, we're bathing our teeth in the sugar and acid content of many servings of fruit, without the filter of whole fruit's healthy fiber. In the end, it's not much better for our teeth than soda.
Honorable Mentions: Coffee, Black Tea, And Alcohol
Soda, sports drinks, and fruit juice aren't the only drinks that are bad for our teeth. Coffee, black tea, and alcohol are too, particularly the dark ones, which can leave stains. We also tend to add sugar to our coffee and tea, and alcohol can dry out the mouth, leaving it vulnerable to bacteria.
Keeping Our Teeth Healthy
While we aren't going to insist that our patients give up these drinks forever, we definitely recommend cutting back and counteracting the negative effects by drinking more water, maintaining good oral hygiene habits, and scheduling regular dental appointments.
We love our patients' smiles!
Top image used under CC0 Public Domain license. Image cropped and modified from original.
The content on this blog is not intended to be a substitute for professional medical advice, diagnosis, or treatment. Always seek the advice of qualified health providers with questions you may have regarding medical conditions.